Preview Videos of Clover POS Equipment in these industries.
Clover Station Solo
Clover Station Solo is a powerful, all-in-one Clover Station device that has one-merchant facing screen
Clover Station Solo is best-suited for full-service restaurants and other types of merchants who don't need a customer-facing screen to process payments
Clover Station Solo is a one-screen alternative to the two-screen Station Duo
Features Include:
Supports WiFi, Ethernet, LTE connection, and mobile hotspot
LTE service and SIM card provided by AT&T, managed by the Wireless Manager app
1gb of data per month – $15 per active SIM card
EMV and MSR only – No NFC, PIN debit, or EBT
Integrated battery backup up to 1 hour
Includes a P500 receipt printer
Clover Station Solo does NOT support tethering of a Mini, Flex, or NFC printer
Optional proprietary charging cable for a Flex
Clover Station Duo WiFi

Station Duo is a bundle that consists of the following components geared towards Retail, QSR and service-related merchants:
14" non-swivel, non-payment accepting tablet
Station Duo payments terminal (customer facing display)
Receipt printer
Cash drawer (optional)
Dedicated customer-facing display for improved order accuracy, customer engagement, loyalty program facilitation, and more
Does not support Pre-Authorized Bar Tab functionality
Pre-Auth Bar Tab only available on the Solo, Mini, and Flex
Customer display is durable and thoughtful, built with strengthened glass which includes anti-fingerprint and anti-microbial coating
Fully integrated EMV/NFC payment acceptance and fingerprint login for enhanced security
Connectivity options include Ethernet, WiFi, or mobile hotspot
Does not support LTE
14" high resolution merchant-facing screen that's fixed in place versus on a swivel
State of the art processor for increased transaction and app speeds
Compatibility with same peripherals as previous Station to reduce additional costs (for existing Station merchants)
Clover Mini 3rd Gen
Powerful and sleek. Clover Mini takes swipe, chip, and contactless payments right out of the box
Fixed and portable countertop use case
8" capacitive multitouch touch screen
Fully integrated with EMV chip, NFC, MSR, PIN debit, and EBT capability
PIN bypass available
Front facing camera
Barcode scanner
Telecheck reader
Connects via LTE, Ethernet, WiFi, or mobile hotspot
Embedded thermal receipt printer
Supports digital receipts and signatures
2 USB power hub
Supported peripherals
Can be tethered to another Mini 3rd Gen
Clover Mini 3 swivel available
Clover Flex 3rd Gen

6" screen vs 5" via Flex Gen 2
Android 10.X operating system
Supports LTE (4G), WiFi, and mobile hotspot
Extended battery life and improved & redesigned charging dock
Static charging
USB-C charging
Supports at least 8 hours of use for typical SMB
1D/2D barcode scanning with dedicated external button for barcode
Features the new Avocado payment flow UI
fully integrated with Clover devices but cannot be tethered to any device over a wire
Available optional accessories include Flex Travel Kit and ADA Compliant PIN Entry Aid
Clover Go 3rd Gen
The newest Clover Go peripheral can be used to take card-present transactions from anywhere
Compared to the original Clover Go, the new Clover Go is sleeker, processes payments faster, and has a longer battery life
Custom built by Clover to provide the latest chip and contactless payment acceptance technology, Clover Go
(3rd Gen) includes features that address the constantly evolving payment and business management needs:
Accept the latest in EMV chip card and NFC contactless payments, so your customers can pay the way they want
Built-in Clover security to help protect both customers and merchants from fraud – secure processor ensures cardholder data is encrypted
Ability to email receipts directly from your tablet or phone
Credit and Signature Debit Card – Chip and contactless payment acceptance wherever you do business, in the shop, in the field, or on the road
Multi MID / multiuser capability
Record cash and check transactions via Clover Go applications
Clover Go NFC (Gen 2)

Merchants can leverage their existing investment in employee devices as Clover Go is a BYOD solution
Processes contactless payments (including Apple Pay®, Android Pay™, & Samsung Pay™), along with traditional chip & swipe transactions
Signature Credit and Debit only (no PIN debit or EBT)
Micro USB for charging, Bluetooth® to mobile device for payments
iOS 10 (and higher) and Android 5.0 (and higher)
Estimated 160 Dip/EMV or 160 Swipe or 130 Contactless transactions per charge
Clover Go Dock and Belt Clip sold separately
Multi MID / Multiuser capability
Ability to record checks and cash transactions

Virtual Terminal
Clover Virtual Terminal makes it easy to get paid virtually anytime, anywhere – all you need is your smartphone, tablet, or computer and an internet connection. No extra equipment or software required.
Two factor authentication required
Card on File Supported
Transaction will be determined as keyed, card not present
Not intended to be a payment processing gateway option
Transactions can be completed on a smartphone, tablet or computer with an internet connection
Email or text receipts provided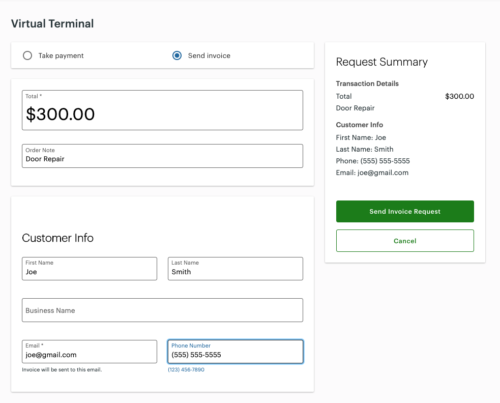 Request for Payment Via Virtual Terminal
Clover merchants will have the ability to send out basic, electronic invoices
Does not support inventory.
Recurring Payments and Invoice Management via Virtual Terminal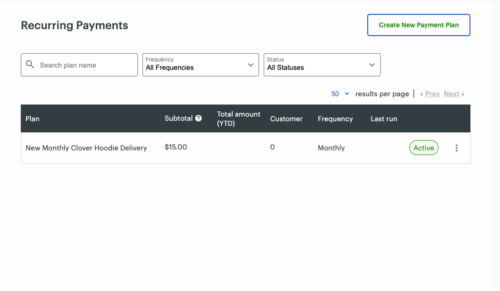 Recurring Payments
Merchants can create plans, set collection amounts, frequency and add subscribers to automatically process payments.
Customer profile and card-on-file are used to process the payment.
Customers will receive a reminder notification
(invoice) 3 days prior to billing, and a digital receipt at the time of payment.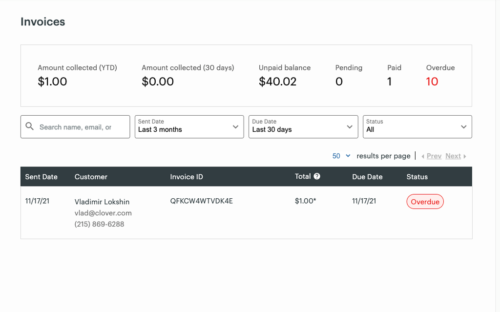 Invoice Management
See all invoices, paid and outstanding, and a summary of collected funds, unpaid balance and invoice summaries.
Search, filters and pagination for merchants with many invoices to find specific invoices
Recurring payments jobs will create invoices 3 days prior to billing which will be displayed in Invoices together with one-off invoices.
Clover Online Ordering Platform
Clover can build you a powerful online e-commerce presence while other merchant solutions are just now entering the market
Clover Online Ordering (COLO) enables you the ability to receive and process online menu orders coming from customers wherever they discover your business
Target Audience

Excluded Audience

Quick Service Restaurants
Full Service Restaurants
MCC 5812, 5813, 5814
Clover Dining Users
Counter Service or Table Service Restaurant Plan

Retail and service merchants
Register Lite and Payments Plus SaaS plan merchants
Merchants who cannot use online ordering services (e.g., alcohol exclusive)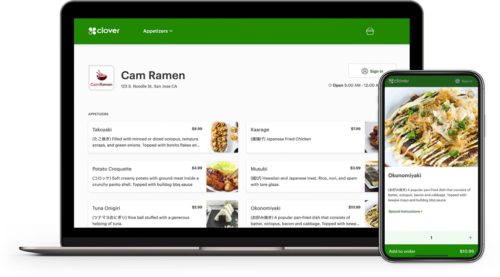 Scan to Order and Digital Menus
Customers scan the QR code with their iOS or Android device to open to the Clover Web Ordering site in "Dine In" mode
Customers can view the merchant's menu, add items to the cart, and pay. Orders will be automatically fired to the kitchen.
Schedule Orders
Guests will be able to place ASAP orders or plan ahead and place a scheduled order
Merchants can set how far out in advance a customer can place an order and when they would like the order receipt printed
Curbiside Pickup
Merchants will be able to deliver an order to a guest at the "curbside" when the order is ready
Guests can pick up their orders and can pick up from the convenience of their cars
Delivery via DoorDash
DoorDash will allocate an on-demand delivery driver to fulfill each order placed via Clover Web or App orderings
Consumers can track their orders in real-time using a DoorDash progress tracker website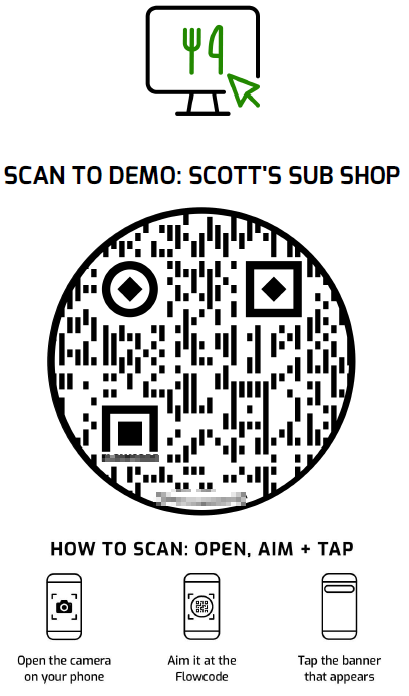 Clover Customer Engagement Suite
Customers
Rewards
Promos
Feedback
The four Clover Customer Engagement apps – Customers, Rewards, Promos and Feedback – are designed to work separately or together to deepen your customer relationships, and to help you create new ones.
Note: these applications are not available for merchants boarded in MCC 5993.
Where Does Clover Fit Best
Best Suited For
SMB
Retail
Service Industry


Medical Offices
Personal


i.e., Salons, Electricians, Plumbers, Food Trucks, Lawn Services, etc.

Restaurants

Not Intended For
Big box retailers & multi-lane grocery chains


Exceeds 15,000 SKUs
Proprietary POS solution
Multi-location functionality

Hotels & Lodging


Does not support incremental pre-authorizations

Full B2B
Cash Drawer
Hands Free Scanner
Handheld Scanners
Kitchen Printer
Thermal Kitchen Printer
Sticky Label Printer
Label Printer*
Flex Extender Arm
Flex Sleeve
Flex Travel Kit
Flex Accessibility Pad
Weight Scale
Printer Paper
Bill & Coin Tray
Tray Locking Lid